Production
the art of making spot whiskeys
Production
the art of making spot whiskeys
Back in the days when distilleries would sell their new make spirit to bonders for maturing, Mitchell & Son developed a reputation for creating some of the finest Single Pot Still Irish Whiskey to be found in the capital. A reputation that stays true even to this day.
This is how Mitchell & Son made their whiskeys back in the 1800s and how it is still made to this day by the expert masters at the revered Midleton Distillery, in County Cork.
Ingredients
the finest irish ingredients
As a Single Pot Still Whiskey, our Spot Whiskeys are made using a unique combination of both malted and unmalted barley. This leads to that silky mouthfeel and the pot still spices that our whiskeys were so renowned for back in the old days.
•
•
•
•
•
•
•
•
Fermentation / Distillation
mashing and triple distillation
Once our barley is milled into a fine grist, fresh Irish water is added and this mashbill is then left to ferment and create our alcohol. We then triple distill the alcohol in traditional copper pot stills to bring out the quintessential taste of a Single Pot Still Irish Whiskey.
•
•
•
•
•
•
•
•
Maturation
the magic of maturation
It is this stage that our Spot Whiskeys are arguably most famous for; it is these maturation variations that result in the spectrum of flavours, notes and colours of our Spot whiskeys, both in liquid and in name. Our Green Spot whiskey matures in a combination of ex-bourbon casks as well as ex-sherry butts for between 7 and 10 years—or until it's ripe and ready. Green Spot is made in relatively small batches hence its high demand and rarity. Our Yellow Spot whiskey, often referred to as 'the older sibling', is matured for a minimum of 12 years in bourbon casks, sherry butts and Malaga casks to create a superbly complex whiskey. It's a rare taste of a true whiskey bonders style of whiskey.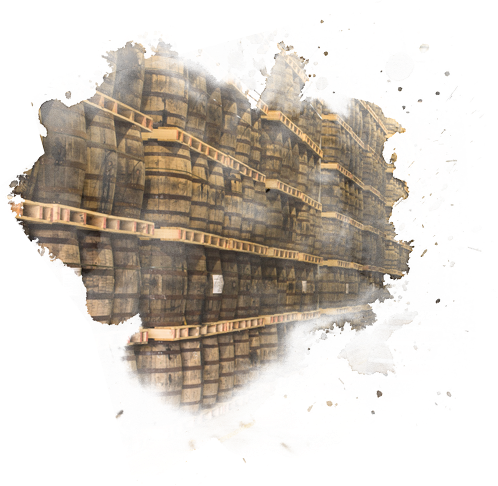 Our Green Spot Château Léoville Barton is initially matured in a mix of ex-Oloroso sherry and ex-bourbon barrels before being transferred into the ex-Bordeaux wine casks for between 12 to 24 months. The result: a distinctive & perfectly balanced whiskey with red wine seasoning. Robert Mitchell the seventh puts it succinctly – "You could say that Green Spot is the green apples, and Yellow Spot is the red apples."
•
•
•
•
•
•
•
•
Barrels
the barrels and the spots
Akin to how our barrels were left to mature under the streets of Fitzwilliam Lane in Dublin, we have set out the three casks of influence for our three Spot Whiskeys below. Each one brings their own flavours, aromas and story.
•
•
Green Spot
•
•
Green Spot
•
•
Yellow Spot
•
•
Leoville Barton