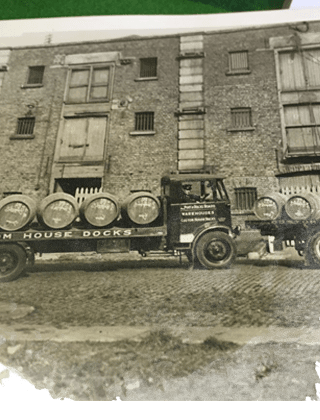 HISTORY
Colourful and Complex
HISTORY
Colourful and Complex
Behind every Spot Whiskey is a long history of colourful characters, near-death experiences and a whiskey's never ending fight for survival.
Indeed it's a story of survival and entrepreneurship that is carried on to this day through the Mitchell family, where for seven generations the Spot whiskeys have been kept alive for all of us to enjoy.
Robert Mitchell
1803
Upon the death of his close friend, the rebel Robert Emmet, William Mitchell decreed that all the first born children of each generation of the Mitchell family shall be called Robert. This tradition has continued right up to this day with the current Mitchell (Robert Jonathan Mitchell), his son (Robert Mitchell, the seventh) and even his own son Robert James Mitchell. In other words, there are a lot of Roberts behind every Spot whiskey.
•
•
•
•
•
•
•
•
Reputation
1805 onwards
Our Single Pot Still family of Spot whiskeys find their roots in Mitchell & Son, one of Ireland's last remaining Wine Merchants and Whiskey Bonders. The Spot Whiskeys go back to the days when Jameson's distillery would sell their new make spirit to bonders who matured them in wine and fortified wine casks. It was then that Mitchell & Son developed a reputation for creating some of the finest Single Pot Still Irish Whiskey to be found in the capital.
•
•
•
•
•
•
•
•
The Old "Bakery"
Grafton Street
In the 1800s, Mitchell & Son was the place to go for tea, confectioneries and cakes on Grafton Street in the heart of Dublin. Their reputation even earned them royal warrants and the title of "Confectioner to Her Majesty." The family business began as a confectionery and bakery in 1805, taking a cheeky turn later in the century into wine importing and finally whiskey bonding in 1887. Their imported fortified wine casks were to become the perfect vessels to mature the pot still Irish whiskey of our Spot whiskeys.
•
•
•
•
•
•
•
•
The Entrepreneurial Spirit
1887
In 1887, the entrepreneurial Mitchell family expanded into the whiskey bonding business, whereby they sent empty wine, sherry and port casks via horse and cart to the local Jameson Distillery up on Bow Street. These were then filled and returned to the Mitchell's cellar warehouse underneath Fitzwilliam Lane. There, beneath cobbled streets, the whiskeys matured for many years until they were ready to be bottled and sold to those in the know.
•
•
•
•
•
•
•
•
The Spot Names
Red, Yellow, Blue & Green
The Mitchells matured their whiskey in casks under the streets of Dublin in their network of underground cellars. When their fortified wine casks were filled exclusively with Jameson spirit from the old Bow St. Distillery, they were marked with a daub or 'spot' of paint which identified how long the barrels would be matured for. Blue for 7 years, Green for 10 years, Yellow for 12 years and Red for 15 years—hence the name Spot Whiskey.
•
•
•
•
•
•
•
•
Gold Spot
1914
In the early 1900s Mr Noel Mitchell (the grandfather of the current Mr Robert Jonathan Mitchell) went to the US as a young man where he tried to make it as an American Football player before heading off to Yukon in the Canadian Gold Rush. Thankfully he appeared to have not been fully successful in both pursuits and a few years later he returned behind the counter of Mitchells—for perhaps the real gold was in the whiskey.
•
•
•
•
•
•
•
•
Prohibition and World War II
1930s & 40s
Like many Single Pot Still Irish Whiskeys, our Spot Whiskeys have faced tough times be it from the tragic days of the Famine in 1845, to the numerous Rebellions, World War I, Prohibition of the 1930s and of course World War II. However, it is to the testament of the Mitchells' resolve and the pure love & loyalty of people to Green Spot that our whiskey bonder era style of whiskeys have fought on and have lived to tell the tale.
•
•
•
•
•
•
•
•
Robert (Bobbie) Mitchell
Father of the current managing director Jonathan and grandfather of Robert, Bobbie spent most of his life in the family business as managing director and chairman of the company following a number of years in the army. He died in 1997 having retired some years earlier. Bobbie traveled extensively and built up the company's wine portfolio. He developed contacts with producers and negotiators abroad, most of whom the Mitchells still deal with to this day. He had a lot of friends within the Irish whiskey business and was very much part of the group that vowed to keep Mitchells Green Spot as a premium single pot still whiskey. Bobbie also had a lot of sporting interests, he was an international rugby football referee having played the game at a high level for many years. He also played polo and enjoyed his hunting in the winter months.
•
•
•
•
•
•
•
•
Samuel Beckett
1960s
Among the many notable playwrights, Irish writers and even politicians who have been known to enjoy Green Spot, Samuel Beckett is one who stands out. From 1906 to 1989, Samuel Barclay Beckett was best known as an avant-garde novelist and playwright. But his skills extended to whiskey too, as although he spent a lot of his adult life in Paris, he had the foresight to always order his Green Spot whiskey from the Mitchell & Son Wine Merchants shop. And from there, his two friends from Westport would bring over his cases to Paris, how many 'survived' each journey is anyone's guess.
•
•
•
•
•
•
•
•
Running out of Spots
1976
In the post World War II era, what was once the world's favourite style of whiskey, Single Pot Still Irish Whiskeys were a depleted resource. To help continue their art, Irish Distillers was formed to help get the Irish distilleries back on their feet. With its formation, the then chairman Kevin McCourt ceased supplying whiskey to bonders. At the time, Mitchells had 10 years supply in bond and were close to running out when the decision to resupply Mitchells was made. It was another survival coup for the indomitable Green Spot. Side note: The story goes that Mr Mitchell had cleverly campaigned for more bonder whiskey by canvassing the powers that be in the various Dublin yacht clubs and intelligentsia hang outs at the time. Safe to say that when these loyal fans heard of the trouble they quickly helped turn things around and ensure the continued safe passage of Green Spot's legacy. It was a happy result for all. And one that has led to the re-emergence of Green Spot as a global force in whiskey, and the reintroduction of Yellow Spot and, of course, the combining of two famous Irish families to form Green Spot Chateau Château Léoville Barton.
The Rediscovery of Yellow Spot
A chance discovery
This truly is a tale befitting our Spot whiskeys. For after the struggles of the Irish whiskey trade post World War II, Yellow Spot fell out of circulation. It wasn't until a chance discovery in the little Museum Of Dublin of an old bottle of Yellow Spot—intact—that the real revival and recreation of Yellow Spot could begin. The Mitchells delved back through their recipe books and bills of lading to find the exact recipe for Yellow Spot and, when combined with the bottle, we were able to resurrect this noble bottling. Affectionately known as The Dubliner's Tipple of Choice.
Léoville Barton
1700 to 2015
This story actually begins in the 1700s with another Irishman Thomas Barton who emigrated from County Fermanagh as part of what is known as 'The Wine Geese'. These are a group of Irishmen who left Ireland and set up wineries all over the world, and Thomas Barton set his up in the heart of the Saint-Julien appellation in Bordeaux, France. It is here that the now world-renowned winery lives and operates from today. And so, it was the perfect fit for when we decided to give our Green Spot a little red wine finishing seasoning. As a result, not only did two world famous drinks combine, but so too did two old Irish families unite, all in the one wonderful bottle: Green Spot Château Léoville Barton—over 300 years later.
•
•
•
•
•
•
•
•
What next?
2017 onwards
Well, as you are well aware our Spot Whiskeys are quietly reassuming their role as Dublin's finest underground and creative-thinking whiskeys. There are rumours aloft, however, as to future reintroductions of old Spots such as our famous Blue and revered Red Spot. But to reveal such information would be to test Lady Luck and the Whiskey Gods themselves. Nonetheless Green Spot and our Spot whiskeys have and always will remain the whiskeys that never give up, and so let's hope that one day they will all be reunited: Red, Blue, Green, Yellow and its modern ancestors such as Green Spot Château Léoville Barton. For each one truly brings something different to the table. And we hope you enjoy yours as much as we do. Sláinte.